E-File IRS Form 990 with
Express990
Express990 is the fastest and most secure way to e-file your tax-exempt returns with the IRS. We currently support Form 990-N (current tax year 2014 & previous tax years 2013 & 2012) & Form 990-EZ (Tax years 2014 & 2013).
Tax-Exempt Organizations Return – Form 990
While tax-exempt/nonprofit organizations do not always owe taxes to the federal government, most of them are still required to file at least an informational return with the IRS. The Form 990 is that annual informational return.

The purpose of the IRS Form 990 is to give the IRS, as well as the general public, the ability to evaluate your non-profit's operations. This can include the non-profit organization's mission, programs, and finances.
Form 990-N Pricing

$9.90
Current Tax year 2014 - FREE
Form 990-EZ Pricing

$99.95
Tax year 2012 -COMING SOON
Which IRS Form 990 should I file?
There are several different 990 forms including the Form 990-N (e-Postcard), 990-EZ , 990 and 990-PF. The specific 990 form that you are required to file generally depends on your organization's gross receipts and financial activity, as indicated in the chart below.
Most non-profit organizations are required to apply for recognition of exemption. If you need to apply for tax exempt status, you should file either the Form 1023 or Form 1024. Application Form 1023 is required if you are filing under section 501(c)(3), and Form 1024 is required if you are filing under section 501(a).
| Conditions | Forms to File |
| --- | --- |
| Gross receipts normally ≤ $50,000 | Form 990-N |
| Gross receipts < $200,000, and Total assets < $500,000 | Form 990-EZ |
| Gross receipts ≥ $200,000, or Total assets ≥ $500,000 | Form 990 |
| Private Foundation | Form 990-PF |
Support Center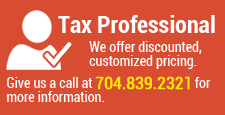 Express 990 for

Mobile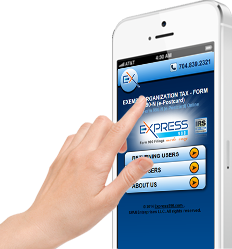 Compatible with iPhone, iPad, Android, Windows, and Blackberry devices